"Project not in a recommended save location" error
If, when you open a project, you see a Project not in a recommended save location warning this means that you are trying to open the project from Scrivener's automatic backup location.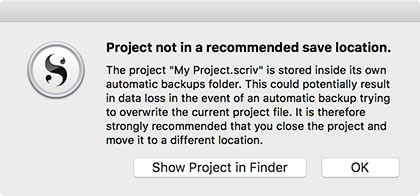 You should not open a project directly from the automatic backup location because it is possible that a new automatic backup could overwrite the project while you are working on it. If you see this warning:
Click on Show Project in Finder.

Switch back to Scrivener and go to File ▸ Close.

Go back to the Finder and move the project file to another location, such as your Documents folder.

You can now open the project safely.
Backup Location
To check, or set, Scrivener's backups are stored go to Scrivener ▸ Preferences... and then click on the backup pane. You will see your current Backup location displayed near the bottom of the pane and you can click Choose... to change the location.
You can learn more about Scrivener's backup features in §5.2 Backing Up Your Work of the Scrivener manual (available in the Help menu). If you want more information on storing your projects and keeping your data safe then see this article.